Retire on your terms.
Success to us is a well-rounded enjoyment of your life, family and experiences.
The Personal CFO Process
See how it works
EVALUATE

---

Take our retirement tune-up to determine if your current financial plan is on track to achieve your retirement goals.

PLAN

---

Meet with our team to discuss your results and map out a strategy to steer you toward your goals.

IMPLEMENT

---

Once you are satisfied that our strategy will help you achieve your financial goals, our team of professionals will put your plan into action!

REVIEW

---

We'll continually review your goals and your strategy to determine if any changes are needed during your retirement journey.
Need more info?
Attend a live workshop
---
Attend one of our financial workshops to learn more about retirement income strategies, wealth management and more.
Next Event:
Check back later for upcoming events.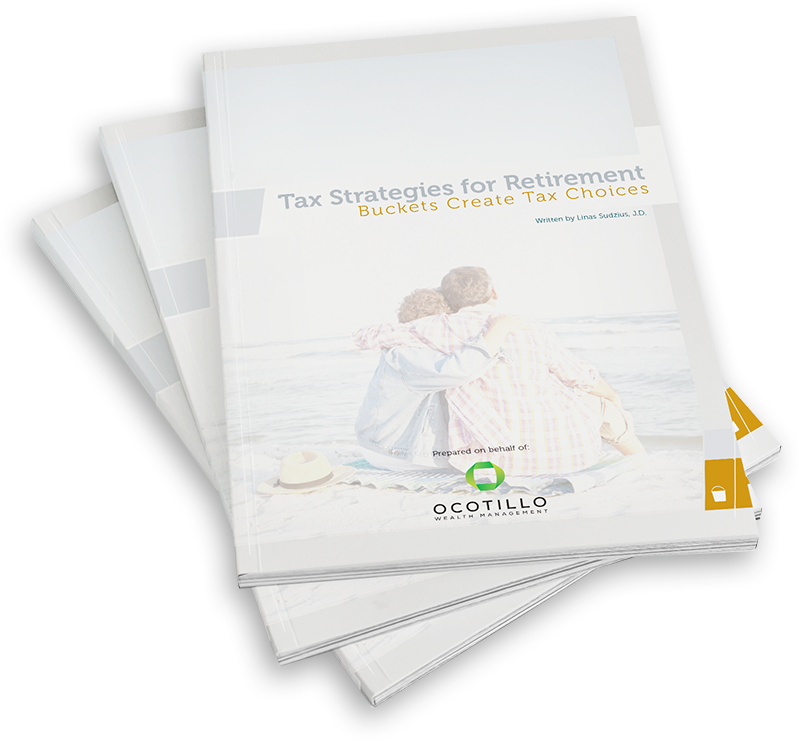 INSTANT DOWNLOAD
Are You Ready for Your Tax Bill in Retirement?
Contributing to tax-deferred accounts like 401(k)s or IRAs may be an effective tax strategy during your working years, but what about once you've retired? This thorough guide outlines the concept of "Four Buckets" as a way to visualize the potential impact of taxes on retirement assets. Find out:
Where your current assets fall in the four tax buckets
Why tax-deferred products could cost you later
How to further diversify your assets - starting now


DISCOVER
Let's Get Started
---
Fill out the form below to schedule your one-on-one meeting with Ocotillo Wealth Management. During this meeting, we'll aim to get to know who you are and what you want out of retirement.